Cleaning Up Blood – Difference Between Cleaning& Sanitizing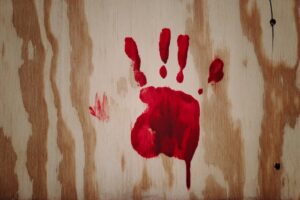 Exposure to blood can be dangerous to health. You're always asked to clean up blood if you ever get a nose bleed or accidentally hurt your finger while cutting vegetables. Clean-up and sanitization of the area are necessary because we don't want other family members to be exposed to blood-borne pathogens. In mild cases like the abovementioned, clean-up is easy. However, in severe cases, such as attempted murder, murder, or suicide, you should call a professional clean-up company like 911 Restoration for blood clean-up and sanitization.
For safety reasons, it is crucial to remember two things whenever you're asked to clean up blood:
Always assume the blood is infected with a dangerous disease, like HIV, Hepatitis B, or C, and take necessary precautions.
Have the right clean-up equipment and use it properly to stop the spread of blood and pathogens.
Difference Between Clean-Up and Sanitization
Before we jump right into cleaning up different areas with blood spills, it is important to know the difference between cleaning up and sanitizing.
What Is Cleaning?
It is simply using soap and water to remove grime and dirt and, in this case, blood. It removes the blood making the surface seem clean to the naked eye, but it still has germs and pathogens. Cleaning alone is not enough as it does not use any disinfectant to kill pathogens. This is why professional companies in biohazard remediation like 911 Restoration never clean up the place but also make sure to disinfect and sanitize the place, making it safe for you and your family.
What Is Sanitizing?
During Sanitizing, reputable companies use disinfectants to kill germs and pathogens in the area that was once covered in blood. Sanitization is after once the area has been cleaned. Killing germs is necessary to eradicate any immediate health concerns. A professional biohazard remediation company would guarantee sanitization.
Checklist: Thing Needed When Cleaning-Up Blood
OSHA's blood-borne Pathogen Clean-up Kit recommends this equipment to clean up the blood safely.
Absorbent materials (e.g., kitty litter, sand, etc.)
Biohazard bag with a zip tie
Disinfecting towelettes
Disposable gloves
Eye protection
Mask
Protective cap
Protective gown
Scoop
How to Clean Up Blood in Different Types of Conditions
Blood isn't always the easiest to clean up; it depends on different materials and surfaces. This article will guide you on how to clean up and disinfect three areas; not carpeted, carpeted, and outdoors. Read through the article to ensure you're prepared for any blood clean-up experience.
Blood Spills on Non-Carpeted Floors
This surface is the easiest to clean and is one of the most common settings for blood spills. It includes all surfaces that are non-absorbent, such as surfaces made of tiles, ceramic, vinyl, linoleum, metal, wood, cement, etc. Cleaning up blood is easier than absorbing surfaces, but there are still some essentials you should not miss when dealing with blood. Spills on non-absorbent surfaces like wooden floors tend to spread over larger areas, so it will be necessary to contain the spill quickly.
Mark the area and block it off until the clean-up and disinfection are complete. No visitors or family members should access the area.
Put on surgical gloves and wipe the blood spill with a paper towel
Pour bleach solution onto the contaminated area. Make this solution by mixing 1-part bleach and 9-parts water. Let this solution stay on for at least 20 minutes
If any absorbent material such as clothing or mop is contaminated with blood, soak it in solution and then allowed it to air dry.
All paper towels and disposable gloves should be thrown in a garbage bag with all other soiled cleaning materials.
Tie up the bag securely, and you can also use double bags to dispose of contaminated materials safely
Once you're done cleaning up and disinfecting the place, thoroughly wash your hands with soap and water.
Blood Spills on Carpeted Floors
Cleaning blood on absorbent products is one of the most difficult tasks ever. That is why the clean-up process has additional steps. Apart from that, there is no way to disinfect the carpet completely. So, the best option is to sanitize it as thoroughly as possible.
Mark the area and block it off until the clean-up and disinfection are complete. No visitors or family members should access the area.
Put on surgical gloves to protect yourself from germs and pathogens
Initial disinfect: spray the carpet with detergent to kill some pathogens and blot up the excess blood spill and fluids with a paper towel
To extract absorbed fluids, use a wet vacuum to thoroughly wet and remove any fluids. Repeat the process of wetting and suctioning several times.
Re-disinfect the area using the same disinfectant detergent. Let it sit for up to 20 minutes to make sure it has full effect.
Rinse the area to remove any remaining detergent or disinfecting solution. After rinsing, wet vacuum the area.
Dry the area with rags and place fans near to dry the area.
After the area is clean, properly dispose of all contaminated rags in garbage bags and disinfect all other equipment used during the spill clean-up.
Call Professional Help Now!
Blood spill clean-up is not always an easy task. If you're looking for Biohazard Clean-up companies in Richmond, 911 Restoration is available 24/7/365. Get in touch now to have a team of professionals at your doorstep within 45 minutes. Contact us now at (804) 529-8052 for rapid response assistance in Richmond.