Water Damage Restoration in Richmond
When you find yourself in any situation where your home or business becomes compromised it is understandable that you would want the damage repaired as quickly as possible so you can resume your regular, daily life. Call us at 804-529-8052 and allow us to provide a free visual inspection.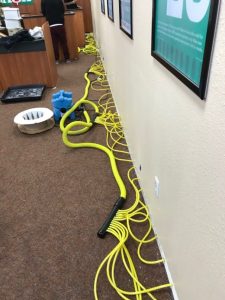 At 911 Restoration of Richmond, we are aware of the need for immediate assistance, which is why our office is open around the clock.
When property owners reach out to the Richmond water damage restoration team, they can be sure that help will be at the door within 45 minutes. The highly trained IICRC technicians have the equipment necessary to provide restoration services to damage of any size. Water restoration services offered include:
Water removal

Flood cleanup

Water mitigation

Water extraction

Sewage removal

Flood restoration

Water damage repair

And more
When it comes to other restoration matters, such as mold removal and fire restoration, our team provides prompt service to survey the area and put a plan of action into place for your property's restoration. Along with water damage restoration, mold removal and fire restoration, 911 Restoration of Richmond also can assist you with sewage overflow cleanup and disaster damage repair services. We aim to be the restoration company that property owners rely on for all of their needs. Call the locally owned and operated Richmond branch when you need expert restoration services and we will show you how a flooded basement or fire damage can actually be an opportunity for a fresh start. Call us at 804-529-8052 and see how we can help.
Water Damage Restoration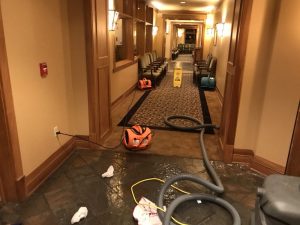 Basement floods have the ability to cause extensive water damage in any property and the best way to limit this destruction is by extracting the water as soon as it enters the structure. The Richmond water damage restoration unit provides 24-hour emergency water cleanup, so you can reach out to us the moment you discover flooding in your basement or any other part of your property. By offering this level of professional flood cleanup, customers can have peace of mind when they hire us knowing that the most qualified water damage technicians are on the job.
The water damage restoration team has received extensive training and uses state-of-the-art equipment when providing flooded basement cleanup service. 911 Restoration of Richmond deals with all types of water damage situations, such as floods that need to be cleaned up during a fire restoration and soaked drywall found at mold removal jobs. Despite the type of damage being experienced, property owners can rest assured knowing our team is fit to handle disasters of any size and complete property restoration is on its way.
Call 911 Restoration when you need basement water removal or leak repair services. Our team will make sure you receive the best commercial or residential water damage cleaning in the industry. Our phone number is 804-529-8052 and we are on stand by waiting for you at every hour.
Frozen Pipe and Flooded Basement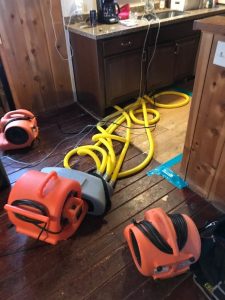 There is no such thing as a good time for residential or commercial property damage. However, having to deal with a water damage emergency during the cold winter months can seem to top the list for worst timing. Being prepared for cold temperatures is the first step to avoiding the need for water removal services during winter. However, sometimes disasters like frozen pipes strike and leave property owners searching for professional flood cleanup. When a frozen pipe becomes apparent, property owners should call the water damage team at 911 Restoration of Richmond. Frozen pipes can burst due to the buildup of pressure.
While it may seem like a good idea to handle the water removal on your own, it is best to get professional flood cleanup from our team of highly trained experts. Without receiving proper flood cleaning services, water damage can lead to entirely new issues like structural damage. The best way to prevent a frozen pipe and flooded basement is to take precautions and remain aware of the upcoming temperatures. Call Richmond's IICRC-certified flood cleanup company when disaster strikes your property. Call us at 804-529-8052!  
Serving the communities of Carson, Charles City, Chester, Colonial Heights, Disputanta, Fort Lee, Henrico, Hopewell, Petersburg, Prince George, Providence Forge, Quinton, Richmond, Sandston, Sutherland and surrounding area.