Sanitization and Disinfection Services in Fort Lee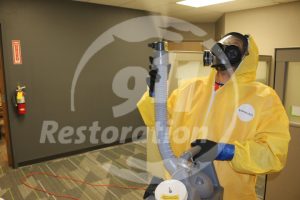 We offer property owners sanitization and disinfection services in Fort Lee. In these unprecedented times, many property owners are unsure what steps they can take to limit the spread of the virus. As a community, we all have our part to play during this pandemic. We may need to:
Stay isolated as much as possible

Maintain social distancing when going out in public

Keep our properties clean and sanitized
911 Restoration of Richmond may be able to provide you with disinfection solutions during this challenging time. If you need covid 19 cleaning services in Richmond or the surrounding area, call 911 Restoration. You may contact our sanitization techs 24/7/365 to discuss options for keeping your property clean and sanitized. Our crews adhere to the most up-to-date standards issued by the EPA and CDC. You may count on us to provide sanitization services in Fort Lee. You can contact 911 Restoration of Richmond if you own a commercial or residential property. We may be able to provide you with a one-time cleaning service. You may also set up a schedule to get regular sanitization services in Fort Lee. Crews may reach your property within 45 minutes of a call, so contact us at (804) 529-8052 now.
Take Charge with Disinfection Solutions in Fort Lee
The CDC has issued a number of guidelines for handling sanitization and cleaning during the coronavirus pandemic. This organization recommends that high touch surfaces receive frequent cleaning. Your property may contain a number of high touch surfaces, including light switches, tables, sinks, and more. 911 Restoration of Richmond may be able to sanitize these surfaces for you. 911 Restoration is the best service provider company in overall covid 19 cleaning companies in Fort Lee. Call 911 Restoration of Richmond at our number (804) 529-8052 We have the equipment and training to clean soft and hard surfaces in your property.
We may be able to provide disinfection solutions for counters, floors, curtains, and other areas of your property. You can contact us to set up a schedule to provide regular sanitization if your business has remained open to provide individuals in our area with essential services. Areas around Richmond are also beginning to re-open.
While our region has not yet been approved to reopen, the day may be coming. If your business was closed down to slow the spread of the coronavirus, you could prepare to reopen by contacting 911 Restoration of Richmond. You may be able to increase the peace of mind of your customers and employees by focusing on sanitization services. We have full-scale service in the sanitation business in Richmond. Call us today at 804-529-8052 and give your property the Fresh Start it deserves!  
Serving the communities of Carson, Charles City, Chester, Colonial Heights, Disputanta, Fort Lee, Henrico, Hopewell, Petersburg, Prince George, Providence Forge, Quinton, Richmond, Sandston, Sutherland and surrounding area.
911 Restoration of Richmond is located at 711 Hospital St #2C Richmond, VA 23219.