Commercial Water Damage Restoration in Richmond, Virginia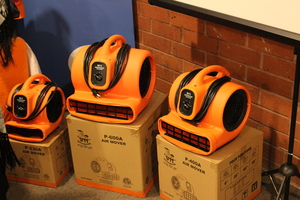 Many commercial property owners do not live on the premises and are not regularly in the building to visually manage any structural issues that may be occurring, such as water damage and mold growth. This can be problematic since both of these issues become significantly worse as time goes on. Fortunately, 911 Restoration of Richmond is prepared to implement commercial restoration work as soon as you need it. Call us at 804-529-8052 and allow us to provide you with a free visual inspection. We offer 24/7/365 emergency services and have representatives standing by around the clock to take your call.
If you are experiencing an emergency water damage situation, then we are available to arrive within 45 minutes to begin commercial restoration services. For less urgent needs, such as mold inspections, we will assist you at your earliest convenience during normal business hours. It is important to take care of mold problems quickly, so we will never keep you waiting for remediation services. We want to make you feel as comfortable as we can when you work with us. So call us when you need assistance and we will get your business back up and running as soon as possible.
Flooding Repair Services For Your Business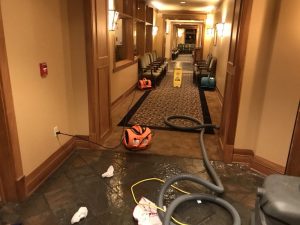 Your commercial property is filled with pipes that are constantly bringing water in and out of the building. If there is a problem with even just one pipe in that system, then your property is at risk of experiencing water damage. We will implement commercial restoration services that will get your building dry, repair the water damage, and take steps to prevent another flood from taking place. A pipe burst is the fastest way for a property to flood, especially if you are not present when the burst occurs. Gallons upon gallons of water can fill your business within a matter of minutes, which is why it is so important to have a system in place that will sense the water when it begins to flood.
Having a sump pump in the basement of the property will drastically reduce the amount of commercial restoration needed, saving you both time and money. However, sometimes pipes can break in unexpected places, such as inside of a wall, creating water damage in the drywall of the ceiling, flooring, and anywhere else the water happens to leak. Indoor flooding is the leading cause of water damage and will require professional commercial restoration services in order to completely recover your losses. So call us when you discover water damage in your business and they provide you with the peace of mind you deserve. Call 804-529-8052 and see how we can help.
Mold Inspection For Your Commercial Property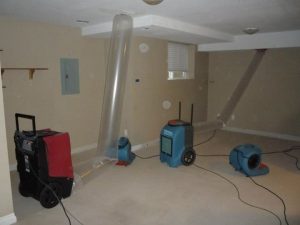 Mold infestations are another issue that owners of commercial properties have to deal with on a regular basis. Water damage breeds mold and it can do so quickly. Within 24-48 hours mold can begin to grow, eating away at the structure of the property and causing health issues for those who breathe in the spores on a regular basis. We provide property owners with a free visual inspection, allowing us to fully understand the extent of the infestation in your business.
It is important to remove every trace of mold to keep everyone safe who may come into contact with the mold. Along with the mold inspection, we will test the mold in order to determine exactly what species is growing inside of your building. This step is especially crucial if you have been having health issues because although some molds are benign, some can be very dangerous. Black mold is the most dangerous variety of mold that can be found in commercial properties and requires special remediation techniques to be eradicated completely. By hiring IICRC-certified technicians at 911 Restoration of Richmond, you will know that you are working with people who genuinely care and understand your needs. So call us today and we will show you how water damage can be the catalyst for a Fresh Start.  
Serving the communities of Carson, Charles City, Chester, Colonial Heights, Disputanta, Fort Lee, Henrico, Hopewell, Petersburg, Prince George, Providence Forge, Quinton, Richmond, Sandston, Sutherland and surrounding area.
911 Restoration of Richmond is located at 711 Hospital St #2C Richmond, VA 23219.