Certification and Training
At 911 Restoration of Richmond, we are proud of our highly trained specialists who are certified by the IICRC and demonstrate excellence in the field of cleaning and restoration. Our experts have demonstrated their exceptional expertise and proficiency in the restoration of textile materials. By selecting our certified professionals for your restoration needs, you can be assured that we have all the necessary resources to offer you a new beginning today!
Our Specialists Are Certified And Trained by IICRC
At 911 Restoration of Richmond, our experienced professionals undergo an intensive training program that covers every aspect of the cleaning and restoration process. We leave no stone unturned in preparing our team for any challenges they may face. In addition, our specialists must successfully complete a comprehensive examination that assesses their knowledge and skills. This rigorous process ensures that our professionals possess the highest level of competence when it comes to caring for your property. You can have full confidence in our expertise to deliver exceptional outcomes.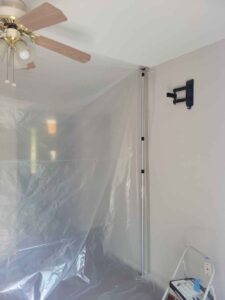 At 911 Restoration of Richmond, we consider water damage to be a significant issue. We recognize that the majority of disasters involve some degree of water damage, which can result in extensive harm in various forms. That's exactly why we focus on offering thorough disaster restoration services. Our dedication is evident in the training and certification we provide to our entire workforce in the realm of water damage cleanup and restoration.
We understand that going through water damage can be an extremely stressful and demanding time for all parties involved. That's why our committed team is here to provide help and support. You can rely on us to be by your side during this challenging period, offering the expertise and attention you deserve.
We are accessible 24/7 to assist you with any water damage emergency you may encounter. Our team will act swiftly and effectively to restore your home or business to its normal state as soon as possible. Contact us today to begin the process.
Employee Certification Training
At 911 Restoration of Richmond, we provide our employees with the chance to take part in our voluntary and self-paced Employee Certification Training program. This program is specifically crafted to equip our 911 Restoration Franchise employees with the essential skills and knowledge required to deliver exceptional service to our esteemed customers. Once they successfully complete the course materials and examination, our employees receive certification that showcases their expertise in the industry.
As the program is voluntary, the duration of completion may vary for each individual, allowing our employees to learn at their own speed. The training program encompasses comprehensive modules such as Crew Training, Fire Restoration, Water Restoration, and Carpet & Upholstery Cleaning. By participating in this training, our team members are thoroughly equipped to tackle various restoration challenges, guaranteeing the utmost level of service quality for our valued customers.
Modules include:
Crew Training

Fire Restoration

Water Restoration

Carpet & Upholstery Cleaning
Franchise Training
The cornerstone of the 911 Restoration training program is a thorough 7-day virtual course conducted by our company's leading experts. This course plays a pivotal role in preparing new franchise owners, providing them with the essential knowledge and skills needed to excel in the restoration industry.
During the course, participants explore a diverse array of crucial topics that are essential for success in this field. They receive invaluable insights, guidance, and practical expertise from our experienced experts, who bring their extensive industry knowledge to the virtual classroom. Through active participation in this rigorous training program, new franchise owners acquire a profound comprehension of the fundamental aspects and optimal approaches necessary to thrive in the restoration industry.
We are committed to providing our franchise owners with a solid foundation through this comprehensive 7-day training course, ensuring they are well-prepared and empowered to achieve success in their restoration endeavors.
It's primarily for new Franchise owners and covers many restoration topics:
e-Learning Resources
All our franchisees have the privilege of utilizing our web-based training platform. This program enables our franchisees to expand their knowledge and stay updated on industry advancements. They have access to video presentations and support materials that allow them and their office staff to stay informed about industry standards and uphold the professional quality that you anticipate from 911 Restoration.
We believe that investing in ongoing training and education is key to delivering exceptional service to our customers. By equipping our IICRC Certified franchisees with the latest industry insights and best practices, we ensure that they remain at the forefront of the restoration field, ready to provide you with top-notch service and expertise.