Water Damage Restoration in Richmond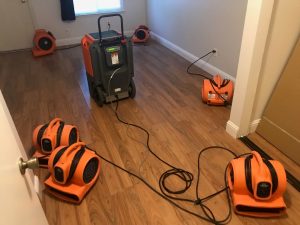 As a property owner in Richmond, the concept of property damage is a familiar one. No matter if it's from a mold infestation or water damage, the responsibility is on you to address the problem. The longer it's left alone, the more your building will suffer the consequences. The worst part is that water damage can strike at any time day or night either as something small or a large event like a pipe burst. Call us at 804-529-8052 and allow us to provide a free visual inspection.

That's why our IICRC certified technicians are ready 24/7/365 to get to work on any mold remediation or water damage restoration needed by our Richmond customers. Whether you live in Richmond, Providence Forge, Fort Lee, or another city in the Richmond area, we guarantee our arrival within 45 minutes ready to get started on your water damage restoration.
Mold only needs water to be present for 24 hours to begin growing and spreading throughout the property. The longer that water damage goes unchecked, the greater your chances of needing mold removal services on top of water damage restoration services. You can avoid the need for multiple services by facing the problem head-on with the help of trained professionals.
As soon as you're aware of the need for mold remediation or water damage restoration call 911 Restoration. Our technicians are standing by to assist you with anything from mold inspection to flood cleanup. Call today to get the Fresh Start you need to start over in Richmond and the surrounding area.

Water Damage Removal
Successful water damage removal starts by bringing in trained professionals who are equipped to handle the task. Every step is important and needs to be done correctly and in the correct order for success to occur. Failure to avoid mistakes can lead to additional complications such as a mold infestation. That's why our IICRC certified technicians work diligently to hone their water damage restoration process to perfection through the use of a combination of ongoing training and years of experience. This process is what ensures our IICRC certified technicians are prepared and capable of handling everything from flood restoration to mold remediation along with any other emergency restoration.
When we arrive, we always start with the visual inspection. This step is done before we even unload the equipment. We require this step because it's what allows us to understand the extent of the water damage, the status of any existing mold infestation, and what repairs are required to restore the property to good as new. After the inspection is complete, we can get started on our water extraction and drying process. We accomplish this task by using the latest water extraction equipment and commercial dryers to ensure the property gets completely dried out.
Just because the property is dry, that doesn't mean we're done. As part of our Fresh Start approach, we take the time to perform any repairs needed to restore the property to good as new. Not only does this include repairing the source of the water damage, but our technicians also address other repairs such as sheetrock installation and carpet installation.
As soon as you notice or suspect mold or water damage, call 911 Restoration promptly. We'll show up within 45 minutes to get started on your mold remediation and water damage restoration. Don't wait to get the Fresh Start you need to begin anew in Richmond. Call us at 804-529-8052 and see how we can help.

Flood Cleanup Company
We work as your flood cleanup company to address all of the problems that flood damage brings. Flooding is more than just water, it's also full of contaminants ranging from dirt to raw waste depending on the source of the flooding. That's why we use our flood cleanup process to address this problem. You can minimize your chances of coming across this problem by watching for pipe bursts since they're the most common reason for flooding.
The flood cleanup process begins with a combination of decontamination and mold decontamination. During this step, the goal is to neutralize all traces of bacteria and mold that exist on the premises. After this step is completed, we can begin our normal water damage restoration process. Once everything has been corrected and cleaned up, we wrap the job up by taking care of the necessary repairs.
Call 911 Restoration as soon you need emergency restoration services. Get the Fresh Start you need to in Richmond. Call us at 804-529-8052

Servicing the cities of Carson, Charles City, Chester, Colonial Heights, Disputanta, Fort Lee, Henrico, Richmond, Petersburg, Prince George, Providence Forge, Quinton, Richmond, Sandston, Sutherland, and surrounding areas.