Disaster Restoration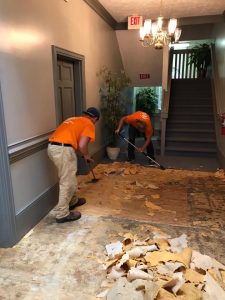 Property owners in Richmond need to be aware of the various disasters in the area that have the potential to cause water damage and other issues in their home or business.
Floods, storms, tornadoes, hurricanes, hail, strong winds, and thunderstorms can all severely destroy properties to the point of needing experts to intervene and pick up the pieces for you.
911 Restoration of Richmond is the company you can trust to make all the repairs your property needs to return back to its old self. The water damage technicians will implement residential and commercial water extraction services, as well as professional drying services.
For your protection we are licensed, bonded, and insured and work with IICRC certified professionals, so you can have the peace of mind you deserve when you hire our highly trained technicians.
The Richmond water mitigation company provides emergency responses to all disasters involving water and to do that they stay available 24/7/365. We guarantee to arrive at your property within 45 minutes of receiving your call, no matter what time you need assistance.
Being able to implement same day services is a huge part of obtaining a full recovery after a water disaster like a flood. The staff at the locally owned and operated Richmond branch is always prepared to provide you with those immediate services, all you need to do is call today!
Flood Damage Restoration After A Hurricane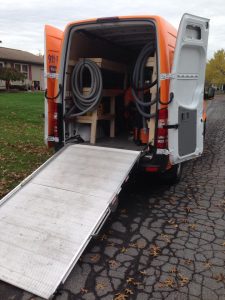 One of the most common natural disasters that occur in Richmond is hurricanes. These storm systems create torrential rainfall and thunder and lightning that can cause structural damages, flooding, and water damage inside of your property.
Tornadoes frequently accompany hurricanes, which can lead to even more extensive damages to any structures that are in its line of fire. These wind cyclones can be violent enough to rip roofs completely off of homes, throw cars, and even completely demolish properties.
Natural disasters of this caliber are highly destructive and require the professional disaster restoration services of 911 Restoration of Richmond. They are qualified to administer any remediation work that you need to fully recover your property after a disaster.
When dealing with disasters that involve water damage, such as hurricanes, tornadoes, and storms, flooding is usually the main reason why people need disaster restoration services.
By implementing water extractions, structural drying, and dehumidifying procedures, the disaster restoration unit can thoroughly repair the property and ensure that future issues won't pop up, such as mold.
The disaster restoration specialists in Richmond are experts at restoring your home or business from flood damage caused by a hurricane or other type of storm disaster, so give us a call today!
Why Use Professional Disaster Cleanup Services?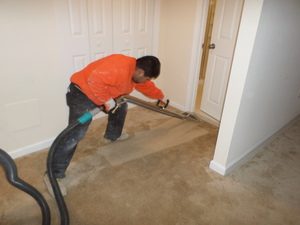 It may be tempting to try to repair the water damage in your property after a disaster has caused flooding or leakage, but before you do anything it is wise to consider hiring a professional disaster restoration company.
Sometimes you may think you are conducting the correct water damage restoration work, and it might fix the situation at the moment, but it may not be a viable, long-term solution.
If you are worried about taking on a financial risk by having the experts check out your home or business, then you should call 911 Restoration of Richmond because we provide free visual inspections for property owners.
They will be able to tell you exactly what disaster restoration work needs to be done, along with a free estimate. This way you will feel comfortable knowing what services we intend to implement and will limit any surprises during the cleanup process.
It is understandable that the financial element of the repair work may be concerning, which is why the Richmond technicians work with all insurance companies. Keeping your out of pocket expenses low is a priority for us, so our staff will file your claim for you to ensure that you have the best chances at obtaining complete water damage coverage.
Call us when you need affordable and trustworthy disaster restoration services in Richmond. Our experts will show you that it is possible to receive a fresh start after a disaster.