Sewage Cleanup in Richmond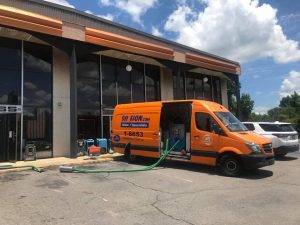 When property owners experience issues with sewage it can actually lead to them becoming involved in a situation that has the potential to be damaging to be their health and their property.
It is important to understand what sewage is, especially before you are in a position where you may be forced to come into contact with it in any way. Sewage is also known as black water and it is considered to be a category three water.
Category three water is the most toxic water since it is filled with waste, chemicals, bacteria, and other biohazards. To keep your health intact it is best to have black water damage professionals take charge of the sewage cleanup effort. Call us at 804-529-8052 and allow us to provide a free visual inspection.
In order to keep you safe, 911 Restoration of Richmond is available 24/7/365 to provide you with the sewage cleanup and water damage restoration services you need to obtain a complete recovery.
If you find yourself involved in an active sewage overflow, then you can call the Richmond office and they will get technicians to your commercial or residential property within 45 minutes, ready to begin the cleanup. So, call 911 Restoration of Richmond when you need sewage removed from your property and we will safely and quickly provide you with the care you deserve. We are IICRC certified.
Professional Cleanup After A Toilet Flood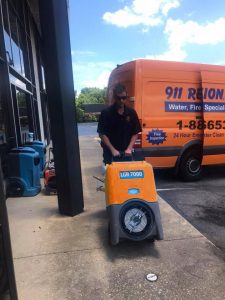 Black water is filled with tons of hazardous waste that can severely impact your health when you are exposed to it either internally or externally. These health implications are what should stop non-professionals from cleaning up sewage spills on their own.
Even just mild exposure to sewage can cause you to experience symptoms, which is why you should call the sewage cleanup professionals in Richmond when you experience any level of black water inside of your property.
Water damage from a flood that was caused by a toilet overflow is going to contain sewage. This type of flood damage may require property owners to clear out their possessions and other personal items in order to keep them from becoming contaminated.
911 Restoration of Richmond is able to provide you with the sewage cleanup services you need to take care of any toxic waste that may have spilled into your home or business via a toilet overflow or any other means, as well as any water damage present. If you do need emergency pack out and storage services, then we can help you with that too.
When you reach out to technicians who are specifically trained to remediate sewage spills inside of commercial or residential structures, then you can rest easy knowing that they will use gear and implement techniques that safely decontaminate the affected area. Our phone number is 804-529-8052 and we are always on stand by waiting to help.
Removing Sewage Water From Carpet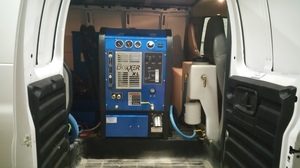 When the carpet in your home or business is contaminated with sewage then you have a potentially dangerous situation on your hands. Like we mentioned before, sewage has the ability to cause health issues. Some of these issues can include gastrointestinal problems and skin irritation, depending on how safely the sewage is handled.
When it comes to carpet and textiles, it can be quite difficult to implement proper sewage cleanup and water damage restoration services. You may have to come to accept that a certain portion of your carpeted property will have to be removed and disposed of completely, depending on the severity of the sewage spill.
However, with the proper sewage cleanup services, you can save your carpet and live in a home that is free of all sewage and water damage.
To save your carpet, the first thing you need to do is call the Richmond sewage experts to come and clean the sewage and water damage up immediately. The longer sewage is left to soak into the carpet, the harder it will be to get all of the black water out of the fabric.
The professionals will survey the carpet and determine how severely it has become affected by the sewage. If a toilet overflow is a reason why you need sewage cleanup, then you may have a better chance at salvaging the carpet. It may be harder to do this if a major sewer leak has taken place.
The Richmond black water repair workers will wear protective gloves, masks, and full body coverings to keep themselves from being exposed by the sewage. They will extract the black water, remove the solids, and use cleaning agents that will disinfect the carpet in the property.
Getting the area completely dry is a very important step in this process. By using a powerful fan and dehumidifier all the moisture can be removed, which will also prevent mold from forming inside of the carpet.
Call 911 Restoration of Richmond when your carpet becomes flooded by sewage and we will arrive quickly and work persistently to do all we can to salvage your carpet and decontaminate your home or business. Call 911 Restoration of Richmond at 804-529-8052 and see how we can help.
Serving the communities of Carson, Charles City, Chester, Colonial Heights, Disputanta, Fort Lee, Henrico, Hopewell, Petersburg, Prince George, Providence Forge, Quinton, Richmond, Sandston, Sutherland and surrounding area.