Mold Removal
It is not uncommon for people to see mold in different parts of their home or business. Most of the time you won't pay this any mind, but that can end up being problematic.  There are many, many different varieties of mold and many of them have the ability to grow indoors, inside commercial and residential properties specifically. A lot of the time mold can be benign, but there are instances when the species is malignant, leading to health issues in those who inhale the spores.
The only way to determine this is by sampling and testing the mold, which is highly recommended by the mold removal team at 911 Restoration of Richmond. It is understandable that you may be unsure if the mold in your property warrants this type of reaction, so to make your decision easier we offer free visual mold inspections for property owners. Call us at 804-529-8052 and allow us to provide you with a free visual inspection.
Whether you decide to test the mold or not, it should be completely removed from the area. A lot of the time, water damage spurs the mold infestation and needs to be remediated as well.
The best way to be sure that mold will not reoccur is by getting as much moisture out of the area as possible. This is why we place such an emphasis on water damage repair, structural drying, and dehumidifying services.
We are qualified to handle both the mold removal and water damage restoration services, making us your literal one-stop-shop for all your mitigation needs. So call us today at 804-529-8052!
Mold Often Grows Out Of Water Damage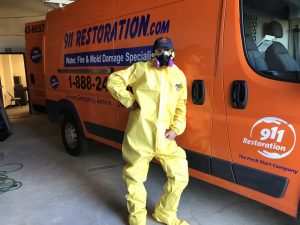 One of the leading causes of mold infestation is unmitigated water damage. When water damage occurs in the ceiling, underneath floorboards, inside of walls, and in other areas of a property that is generally out of sight, the perfect environment is created to breed mold.  Like any other living thing, mold needs food and water to grow. It consumes materials that are commonly found inside of a home or business, such as wood, cardboard, paper, and natural fabrics.  Generally, the temperature inside of these property types is at the ideal warmth for mold to thrive in. So when moisture is added into the mix an indoor mold infestation can begin to grow within 24-48 hours.
Due to the rapid acceleration of growth in mold species, it is important to implement a mold removal plan as soon as possible after it has been discovered. 911 Restoration of Richmond are experts in conducting mold removal services and will also repair any water damage found on the premises.
911 Restoration of Richmond having the ability to offer comprehensive water damage and mold removal services should give you peace of mind. So call us when you discover either one of these problems in your home or business and the Richmond professionals will get your property decontaminated in no time. Call 804-529-8052 and see how we can help.
Mold Sampling And Testing Services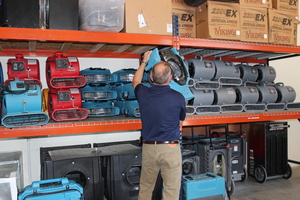 It should not be taken lightly when mold is found in your property. Certain mold species can be highly infectious, so getting it out of your personal space is crucial to your health.  Certain molds may cause you to experience allergy symptoms that feel like seasonal allergies, however, the sneezing and itchy eyes are caused by mold spores and not pollen.
We offer mold inspection and sampling services on top of the decontamination effort, providing services that can only be provided by a professional company.  The mold spores will be tested by a third-party laboratory in order to determine exactly what species of mold has been growing in your commercial or residential property.
IICRC-certified mold removal technicians will show you how much they genuinely care about and understand your wants and needs. So call 911 Restoration of Richmond when you notice any sign of mold growing in your property and we will thoroughly sanitize the area. Call us today at 804-529-8052 and give your property the Fresh Start it deserves!