Mold Removal
Mold growth in your Richmond property can pose serious dangers to both your health and the integrity of your home or business. Mold thrives in damp and humid environments, often resulting from water damage, leaks, or high humidity levels. It is crucial to take immediate action when you suspect or observe mold growth. Contacting a professional mold removal service like 911 Restoration of Richmond is essential to address the issue effectively.
If you notice signs of mold, such as a musty odor, visible mold growth, or allergic reactions like sneezing or respiratory issues, it is important to take action promptly. Avoid direct contact with the mold and ensure that occupants, including pets, are relocated from the affected area to minimize exposure. It is also vital to address the underlying moisture issue that is contributing to mold growth. Our team of experts at 911 Restoration of Richmond specializes in mold removal and remediation, and we follow strict protocols to ensure thorough mold removal, decontamination, and prevention of future growth.
Full Service Mold Removal Services
Our mold removal services in Richmond include:
Thorough inspections to identify the extent of mold growth.
Developing a tailored remediation plan based on the assessment.
Mold containment to prevent further spread during the removal process.
Removal of affected materials that are contaminated with mold.
Drying and dehumidification to eliminate excess moisture and prevent future mold growth.
Final restoration to bring your property back to a safe and mold-free condition.
At 911 Restoration of Richmond, our IICRC-certified professionals are committed to providing quality and fast solutions for mold removal. We understand the dangers associated with mold growth and the importance of prompt action. Trust our team to handle the entire mold remediation process with expertise and care, ensuring the safety and well-being of your property and occupants. Contact us today to restore a healthy living environment.
Our mold removal services in Richmond include a comprehensive approach to address the dangers of mold. Our team of professionals is equipped with advanced equipment and techniques to identify and remove mold effectively. We conduct thorough inspections, assess the extent of mold growth, and develop a tailored remediation plan. Our services encompass mold containment, removal of affected materials, thorough cleaning and disinfection, drying and dehumidification, and final restoration to bring your property back to a safe and mold-free condition.
Mold Often Grows Out Of Water Damage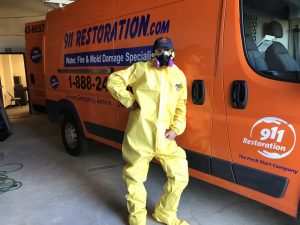 Mold growth is a common consequence of water damage in Richmond properties. When water intrudes into your home or business, whether from a
leaky pipe
, roof damage, or a flood, it creates an environment conducive to mold growth. Mold can begin to grow within 24-48 hours of water damage, spreading quickly and causing potential health risks. It is crucial to address water damage promptly to prevent mold growth and the associated issues it brings. At 911 Restoration of Richmond, we understand the close relationship between water damage and mold growth.
Our team of experts is trained to handle both water damage restoration and mold remediation, ensuring a comprehensive approach to address the root cause of mold growth. We utilize advanced techniques and equipment to thoroughly dry and dehumidify the affected areas, preventing further mold growth and minimizing the risk of structural damage. When dealing with water damage, it is important to take immediate action.
Contact 911 Restoration of Richmond to mitigate water damage and prevent mold growth. Our professionals are available 24/7 to respond to emergencies and provide quality restoration services. We prioritize fast and efficient service to ensure that your property is restored to its pre-damaged condition, free from mold and other associated risks. Trust our IICRC-certified team to handle your water damage and mold remediation needs with expertise and care.
Mold Sampling And Testing Services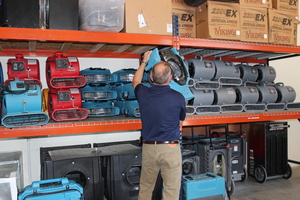 It should not be taken lightly when mold is found in your property. Certain mold species can be highly infectious, so getting it out of your personal space is crucial to your health.  Certain molds may cause you to experience allergy symptoms that feel like seasonal allergies. We offer mold inspection and sampling services on top of the decontamination effort.  
Mold spores will be tested by a third-party laboratory in order to determine exactly what species of mold has been growing. IICRC-certified mold removal technicians will show you how much they genuinely care about and understand your wants and needs. So call 911 Restoration of Richmond when you notice any sign of mold growing in your property. We will thoroughly sanitize the area.
Call us today at 804-529-8052 and give your property the Fresh Start it deserves!   Call us at 804-529-8052 Serving the communities of Carson, Charles City, Chester, Colonial Heights, Disputanta, Fort Lee, Henrico, Hopewell, Petersburg, Prince George, Providence Forge, Quinton, Richmond, Sandston, Sutherland and surrounding area.
911 Restoration of Richmond is located at 711 Hospital St #2C Richmond, VA 23219.