Services
Water Damage Restoration in Richmond, VA
Whether it's a pipe burst, property flood, ceiling leak, or any other form of water damage in Richmond, you can always turn to 911 Restoration of Richmond for urgent water damage repair service and full-service flood cleanup.
No matter when you call, our water damage restoration technicians arrive at your home or business in 45 minutes or less. They come prepared to handle everything from roof repair and boarding up to leak detection and water extraction. They pack out and store any belongings that are in harm's way, and once water removal is complete, they bring in professional fans to dry your property completely.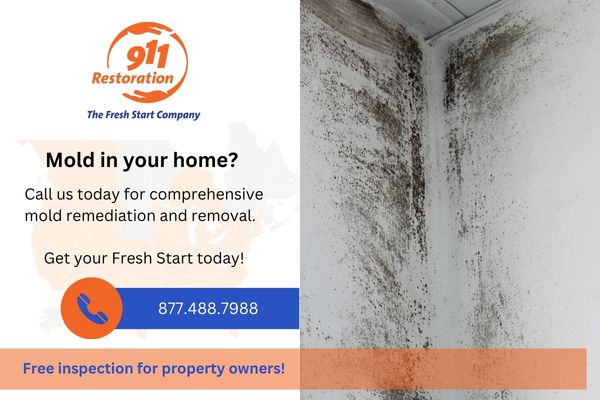 Additionally, our experts know the longer water lingers in your home or business, the greater your odds of damage such as rotted drywall, warped floorboards, or damaged ceilings. That's why our flood cleanup crew always tests for damage and structural weakness. If they discover any permanent destruction, they'll repair the problem themselves, so you don't have to worry about hiring another contractor. They even conduct a mold inspection and handle any necessary mold decontamination.
If you've suffered water damage in Richmond, Carson, Charles city, Chester, Colonial heights, or any of the surrounding communities, know that relief is only 45 minutes away. Call 911 Restoration of Richmond today at (804) 529-8052.
Sanitization Services & Disinfection Solutions
Water damage in Richmond can leave areas in need of sanitization. Customers need to feel safe when they're visiting your place of business, and their safety should be your concern. Smart business owners in Richmond maintain a regular sanitizing schedule. You can keep your business clean and reputable by keeping your property professionally sanitized. 911 Restoration of Richmond is here to help you. We are prepared to do our part for the community by offering disinfection solutions. Our trained techs treat your property with care and professionalism. They have specialized training and can handle sanitization and disinfection for residential and commercial property owners.
Mold Remediation and Removal After Water Damage in Richmond
Make no mistake: a mold infestation is an emergency. If you have a growth in your home or business—or even if you only suspect that you do—contact 911 Restoration of Richmond right away for a thorough mold inspection and mold remediation. Our IICRC-certified mold inspection technicians inspect your property thoroughly for signs of growth. Many varieties of mold carry certain health risks. For this reason, our mold remediation technicians take great care to eliminate the infestation without spreading dangerous particles throughout your property. They'll also dehumidify the structure itself—a step that is absolutely essential for preventing a repeat infestation, especially after water damage cleanup. If you own a business or home in Tahoe, Truckee, Carson City, Dayton, Sun Valley, or surrounding areas, you can always turn to 911 Restoration of Richmond for comprehensive mold remediation. Don't wait for mold to eat away at your property and destroy your health. Give us a call today at (804) 529-8052.
Sewage Backup And Cleanup
Few things inspire dread like the stench of a sewage backup. As a Richmond property owner, it can be difficult not to panic. Who can get rid of the sewage? Is it even possible to remove that odor? What are the risks to your health? You can find the answers to all of your questions at 911 Restoration of Richmond. Our certified sewage cleanup technicians can be at your property at a moment's notice, ready to go with emergency sewage extraction. Once they clean up the mess, they bring in professional fans to make your property bone dry again, and they sanitize the area to protect you, your pets, and other humans from the dangerous bacteria. They also conduct a thorough mold inspection and repair any damage caused by the toilet water backup. A sewage backup can feel like a nightmare, but you can count on the technicians at 911 Restoration of Richmond to have your property pristine and feeling fresh before you know it.
Fire And Smoke Damage Restoration
From property fires to puff backs, let 911 Restoration of Richmond be your fire restoration company in Sparks and the surrounding areas. The fire damage restoration crew is able to handle every aspect of water and fire damage cleanup. That includes smoke, ash, soot, and odor removal, as well as full property restoration. They use soda blasting to clean the surfaces of your property and eliminate odor-causing particles. They even go the extra mile to clean your furniture and dishes.
Certified Fire And Smoke Damage Restoration Services
Every fire damage cleanup professional has been trained in all types of water and fire damage repair, so no matter what it takes to get your property looking new again, they have it covered. From roofing to carpet replacement to drywall repair, these experts make it feel like your fire or puffback never happened. Water and fire damage doesn't have to be impossible to cope with. We're here by your side! Our fire damage restoration staff are also certified in water damage cleanup and restoration. Part of the process of putting out a fire requires a lot of water. When the fire department leaves, there can be a huge amount of flood damage left behind. Water damage cleanup and extraction are common after a fire. Don't worry, our IICRC-certified and knowledgeable staff will make sure to leave you with a Fresh Start. It's fair to feel devastated in the wake of fire and water damage, but rest assured that getting past this and on to a Fresh Start is easier than you think. Don't wait – call us today at (804) 529-8052.
Disaster Restoration
Life is generally good in The Biggest Little City in the World. However, even happy places like Sparks, Carson City, and Fernley aren't immune to the potential damage from unexpected disasters. With the regular threats of floods, wildfires, and earthquakes, property owners are never completely safe from potential destruction. Fortunately, 911 Restoration of Richmond is always here to help. Damage restoration in Richmond is no problem for us! In fact, our water and fire damage and disaster restoration experts in Richmond have been extensively trained to handle literally any aspect of disaster restoration. If you've experienced a devastating fire, they know how to remove the smoke, remove the odor, and help you rebuild. If your property has suffered property or flood damage from a severe thunderstorm or weather event, call us today! No matter what has broken, burst, or spilled, they have the skills it takes to clean, rebuild, and give you and your property the Fresh Start you deserve. If you've been hit by a horrible disaster, don't despair. Call us today for reliable, certified residential and commercial disaster restoration services!
Commercial Property Water Damage Restoration in Richmond
There is absolutely no time to lose when it comes to commercial property damage. Whether it's a flood, fire, sewage backup, or mold contamination, any water damage to your Richmond property poses a threat.. Not to worry. The water damage restoration technicians at 911 Restoration of Richmond work quickly. They are equipped to serve any property, including your commercial space. Call 911 Restoration of Richmond for your commercial restoration needs any time of the day or night, any day of the year.
Local And Certified Property Damage Restoration Services In Richmond
No matter what type of property you have and no matter what type of nightmare you've been through, our IICRC-certified professionals will deliver a Fresh Start! Call today for comprehensive, compassionate service. 911 Restoration of Richmond is a franchise of 911 Restoration Franchise, Inc.
For more details, visit our corporate website. 911 Restoration of Richmond is located at 711 Hospital St #2C Richmond, VA 23219. Give us a call 24 hours a day at (804) 529-8052. Serving the communities of Carson, Charles city, Chester, Colonial heights, Disputanta, Fort Lee, Henrico, Hopewell, Petersburg, Prince George and the surrounding areas.